Submit your event and we will be glad to post it. Please contact our Events editor.
Oct 22 @ 10:00 am – 2:00 pm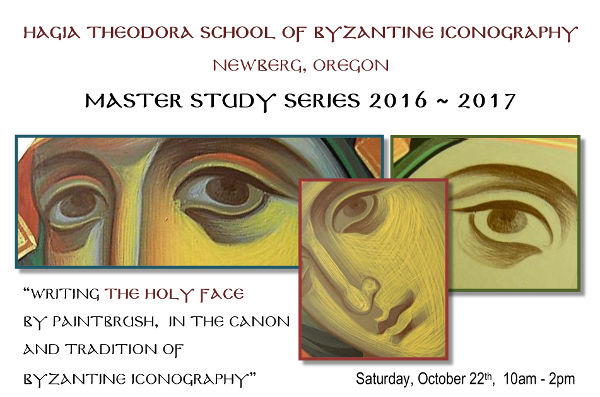 Please join us for the second one-day workshop (in a series of 8) designed to elevate the student's iconography awareness, technique and skills. Open to iconography students and artists of all levels, this one-day workshop is taught by Byzantine Iconographer Magdalene Grace Deane at the Hagia Theodora School of Byzantine Iconography in Newberg, Oregon. Class will be held at our intimate, Old World–style studio filled with solemnity, Byzantine chant and prayer. Please see the attached flyer for more information.
Beginning Iconography Workshop with Colette Kalvesmaki who has taught iconography and written icons for twenty years. Join us for a step-by-step journey of prayer in color as we celebrate St Nicholas just in time for his names day! This course is for beginning students on up in the medium of egg tempera. Students will paint a 9" x 12" bust of St. Nicholas, Bishop of Myra, on a clay/masonite board (no gilding). The workshop will be offered at The Trinity House Cafe in Leesburg VA.  10-4pm For more information: http://www.byzarts.com/st-nicholas-iconography-course-in-december/
6-Day Intensive Workshop Conducted by Founder of the Prosopon School of Iconology VLADISLAV ANDREJEV and Master Iconographer NIKITA ANDREJEV. For more information: http://chicagomonk.org/wp-content/uploads/2016/07/2016workshop-1.pdf  or http://www.prosoponschool.org/index.html or http://www.prosoponschool.org/contacts.html