Source: Daily Sabah
Black Sea monastery set to celebrate Orthodox Divine Liturgy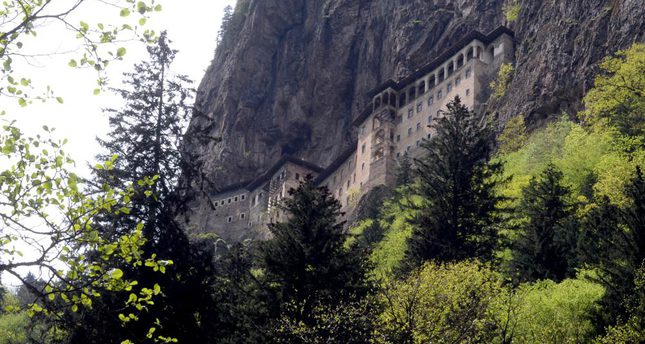 The Orthodox faithful from Turkey and around the world will attend the Divine Liturgy at Sümela, a historic monastery in Trabzon, a province in the Black Sea region, on Aug. 15. The mass will be the sixth religious service held since the restoration of the monastery.The monastery, on UNESCO's temporary list of World Heritage sites, is expected to host the faithful from Russia, Georgia, Greece and other countries with a large Orthodox Christian population.
Fener Greek Orthodox Patriarch Bartholomew I, who presided over last year's liturgy, is expected to conduct the mass this year as well. Trabzon Governor Abdil Celil Öz said they were preparing the site for the mass by reorganizing traffic in the area around the monastery and deploying cleaning crews.
The monastery, located on a steep cliff 1,200 meters high, was reopened for religious services in 2010 with permission from the government some 88 years after it was closed to religious practice.
Dedicated to the Virgin Mary, the Orthodox monastery is surrounded by a dense forest. In the 18th century, a large part of the building was renovated, and some of its walls were decorated with frescos. A century later, the monastery was renovated again, giving it an impressive appearance with the addition of new sections.
[subscribe2]