Source: St. Vladimir's Orthodox Theological Seminary
Saint Vladimir's Orthodox Theological Seminary (SVOTS) is pleased to announce the hiring of noted scholar Dr. Michael C. Legaspi.
"Dr. Legaspi is a biblical scholar of worldwide renown, a gifted teacher, thoughtful mentor, and dedicated servant of Christ and His Church," said SVOTS Academic Dean Dr. Ionuț-Alexandru Tudorie.
"With this addition of a new full-time professor of Old Testament, following similarly successful searches in liturgical theology and patristics, the process of rejuvenating and strengthening the faculty of St. Vladimir's Seminary has passed a decisive milestone. We are now in a better position to serve the Church by teaching and forming our seminarians."
After a long and labor-intensive search process, the Seminary received applications from a large number of well-qualified candidates for the biblical studies position. A search committee comprised of Seminary faculty invited three of the candidates, including Legaspi, to campus for a full round of interviews and public lectures. The on-campus visits yielded valuable information about their suitability for the faculty position, and the qualifications of the candidates were also evaluated by an external advisory board of three exceptional scholars in the field of biblical studies from the United States and Europe. Important feedback was also sought from the Seminary's student body and staff before the search committee recommended, and the SVOTS Board of Trustees confirmed, Dr. Legaspi as professor of Biblical Studies (Old Testament).
"I am deeply grateful and excited to begin, as opportunities to serve the Orthodox churches in an academic capacity do not come along often," said Legaspi.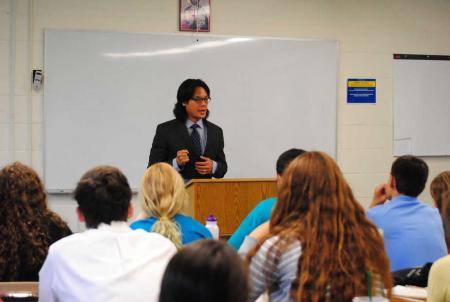 "At St. Vladimir's, I hope to play a useful role in preparing clergy and church leaders for ministry in a world that, by and large, remains ignorant of Orthodoxy. I am eager to help seminarians understand how Orthodoxy relates to the study of the Bible in the wider academic world. As a member of SVOTS faculty, I will enjoy learning from colleagues at the Seminary, and I will work hard to produce and promote scholarship that is both faithful to the Tradition and consequential within the broader world of biblical studies."
Michael Legaspi, Ph.D., joins the Seminary from Phillips Academy in Andover, MA where he has been teaching philosophy and religious studies. He also taught from 2014–2021 at Penn State University, where he was tenured as associate professor of Classics and Ancient Mediterranean Studies and Jewish Studies. Legaspi taught at Creighton University as assistant professor of theology from 2006-2010. A biblical scholar by training, Dr. Legaspi holds a master's and doctoral degree in the Hebrew Bible from Harvard University and a B.A. in Near Eastern Studies from Johns Hopkins University.
Dr. Legaspi has given talks at several national and international conferences, has been invited as a keynote speaker, and his published works have been widely cited by other scholars. He has authored The Death of Scripture and the Rise of Biblical Studies (Oxford University Press, 2010), Wisdom in Classical and Biblical Tradition (Oxford University Press, 2018), a commentary on the Book of Job (forthcoming from Eerdmans), and a number of academic articles.
Due to his most recent positions teaching in two states, Legaspi calls two parishes home: St. George Orthodox Church (Antiochian Archdiocese) in Altoona, PA, pastored by SVOTS Alumnus Fr. Isaac Danevicius, and St. Xenia Orthodox Church (ROCOR) in Methuen, MA.
Dr. Legaspi will begin teaching at St. Vladimir's as a tenured associate professor in the fall semester of 2022.