Source: St. Vladimir's Orthodox Theological Seminary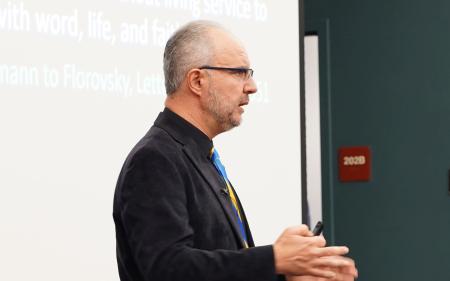 Students, faculty, staff, and community members gathered in person and online on Sep. 12, 2023, to hear scholar and SVS Press author, Dr Paul Gavrilyuk, give a special talk on the contrasting leadership styles of two formational leaders of St Vladimir's Seminary, Fr Georges Florovsky and Protopresbyter Alexander Schmemann. In his presentation, Dr Gavrilyuk gave many examples from the post-war correspondence between the two past seminary deans to illustrate their sense of calling, their courage in the face of great challenges, and lessons for modern-day Christian leaders.
Dr Gavrilyuk also highlighted the differences in the leadership styles of Fr Schmemann and Fr Florovsky, describing the latter as a brilliant scholar who upheld unyielding academic standards with his students, and the former as a pastoral figure who prioritized the spiritual and personal formation of his students. This divergence in their leadership styles, said Dr Gavrilyuk, inevitably led Fr Schmemann and Fr Florovsky toward their well-publicized rift in 1955, when Fr Florovsky left St Vladimir's Seminary.
In this presentation, Dr Gavrilyuk took care to provide a compassionate and balanced picture of both Fr Florovsky and Fr Schmemann, asking the audience to consider their historical contexts, as well as the benefits and drawbacks of each of their distinct approaches to leadership. He concluded the presentation on a heartening note, highlighting a letter written by Fr Schmemann in 1968 and reminiscences recorded by a secretary of Fr Florovsky which indicate the two men ended their lives at peace with one another.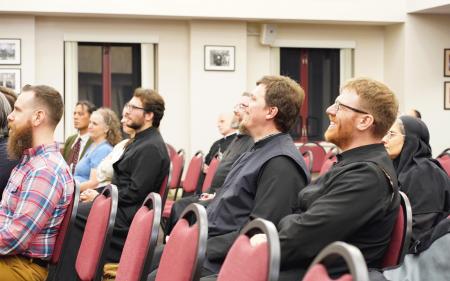 Seminary President, the Very Rev. Dr Chad Hatfield, and Professor of Systematic Theology, Dr Peter Bouteneff each gave their own reflections on the two early leaders of St Vladimir's Seminary. In addition, Fr Chad read a moving reflection from senior staff member, Ted Bazil (M.Div. '73), in which Ted described Fr Schmemann's leadership style as he experienced it, both as a student and as a Seminary employee for the last ten years of Fr Schmemann's tenure.
Dr Gavrilyuk's lecture, Christian Leadership in a Time of Crisis: Lessons from Florovsky & Schmemann, was recorded and is available for viewing on the Seminary YouTube channel; click on the link below to access the full presentation.
---
About Dr Paul Gavrilyuk
Dr Paul Gavrilyuk is the Aquinas Chair in Theology and Philosophy at the University of St Thomas, St Paul, Minnesota. He is an internationally respected Orthodox theologian and historian, specializing in the patristic doctrine of God and Russian religious thought. Translated into ten languages, his monographs include The Suffering of the Impassible God (Oxford, 2004) and Georges Florovsky and the Russian Religious Renaissance (Oxford, 2013). Among his edited works are On Christian Leadership: The Letters of Alexander Schmemann and Georges Florovsky (1947-1955) (SVS Press, 2019), Perceiving Things Divine (with Fred Aquino, Oxford, 2022), and Oxford Handbook of Deification (forthcoming). He is the founding president of the International Orthodox Theological Association and of Rebuild Ukraine.